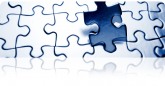 Piecing the Administration of Benefits Together
Providing the best possible value and service in managing your employee benefit administration is important - especially because of the liabilities that go along with employee benefits.
Many companies struggle and feel overwhelmed with managing their benefits. Human Resource professionals are often asked to wear many "hats" in today's business world. They are responsible in keeping up with compliance with several major regulatory agencies including the IRS, Department of Labor, OSHA, Department of Transportation and other various operational state agencies. In addition they are responsible for employee recruitment, retention and benefit management.
Benefit management, especially in light of health care reform, requires full-time attention to regulation changes, constant auditing for accuracy and needless amounts of paperwork processing.
With the IntegraFlex Puzzle online technology platform, IntegraFlex Puzzle can simplify your administration through managing your entire benefits profolio:
Employee Enrollment
COBRA
FSA
HRA
HSA and;
Premium Billing
Are all taken care of through our online single source web site eliminating the hassles of paper forms, confusing rules and multiple web sites.
Experience The Power of IntegraFlex Puzzle
As you search for ways to deal with the numerous requirements of the Patient Protection and Affordable Care Act (PPACA) it is important to consider a single source administrative platform as an essential component for your healthcare administration.
This is where IntegraFlex Puzzle will serve you year-round and our platform was built for benefits administration to have the power and flexibility to assist you with all of your benefits administration needs and your compliance concerns.
A few advantages of using IntegraFlex Puzzle:
Go paperless - employees enroll and maintain their benefits online, which saves time and money and reduces the need for constant oversight of enrollments and changes, which are accurately managed by Puzzle.
Get help with health care reform compliance - let technology help solve some of your issues in keeping up with health care reform requirements.
Employee information is provided only once, elminating the need for multiple entries into multiple systems, decreasing data entry errors.
Enrollment eligilibility is transferred electronically to carriers and other vendors.
The self-billing feature offers easy reconciliation, and remittance of premiums is easier and more accurate.
A library of useful reports is available, plus the ability to  create, custom, on-demand reports which easily export to Excel and other formats.
Above all, the IntegraFlex Puzzle platform is secure - our systems are SOC 2 audited for the best security, and are HIPAA- and  HITECH- compliant.